www.selwyngale.com handcrafted bespoke fine jewellery, made in Wales, UK
Item from Portfolio Category : Necklaces and Pendants : Item Details
Amethyst & silver necklace
Can be purchased from my exhibition at Craft in the Bay, Cardiff.
£340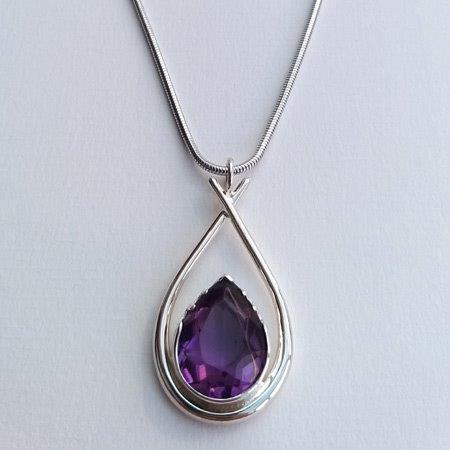 Ref number : 780
SKU : SG127
Halter shape
Amethyst - good quality 9.9cts 16mmx12mm
Overall size 36mm x 20mm
Sterling silver Rhodium plated
Hallmarked in London
Exhibited at "Makers Guild Wales" at "Craft in the Bay, Cardiff, CF10 4QH", and currently available for sale although it may have sold already. You can telephone Craft in the Bay on 029 2048 4611 (GMT hours 10AM-5PM broadly MON-FRI), and they will be able to process your order.