www.selwyngale.com handcrafted bespoke fine jewellery, made in Wales, UK
Item from Portfolio Category : Silverware : Item Details
Silver, Reference # 546
The ultimate engagement ring box closed
Can be purchased from my exhibition at Craft in the Bay, Cardiff.
£700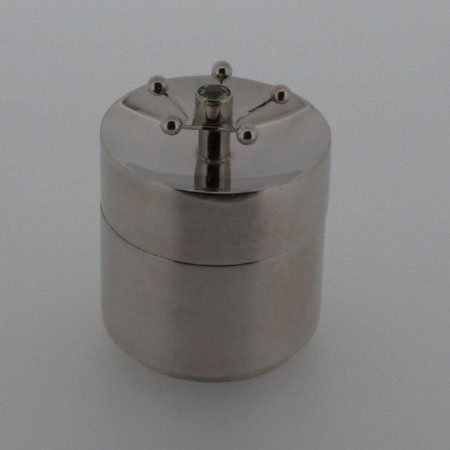 Sterling Silver ring box
6mm peridot mounted
Decorative reflective lid
The split pad is made of pigskin
Rhodium plated
Hallmarked in London
This is presently in a gallery exhibition with the "Makers Guild Wales" at "Craft in the Bay, Cardiff, CF10 4QH". It is currently available for sale to the best of my knowledge although it may have sold already. You can telephone Craft in the Bay on 029 2048 4611 (GMT hours 10AM-5PM broadly MON-FRI), and they will be able to complete the sale directly.
When ordering from the Makers Guild over the phone to speed up your request if you provide them with the following information "I wish to buy a piece from the gallery, made by Selwyn Gale, it is "The ultimate engagement ring box closed, costing £700 and the SKU reference is SG107" - that should ensure you get a crisp and sharp response.
It may be possible to purchase this item from the Makers Guild online shop - which as of July 2020 is under construction at https://www.makersguildinwales.org.uk/.
As a member of the guild a proportion from all of my sales is funnelled back to benefit them; they are a fantastic charitable foundation who tirelessly run the gallery soley to assist young makers broaden their talents.
Go back to the last page